Bad Postural Habits in Childhood
"The important thing is what the child is doing with itself in its activities"F.M. Alexander
©2005 The Society of Teachers of the Alexander Technique, London
In several countries, school age children are presenting a considerable increase in back pains to the point that such situation is defined as epidemic, more than 50% of the children starting from 11 years have or have had back pains. The factors that lead to this increase are several and cumulative along the years, reflecting a percentage of 80% of the adult population that is affected by back pains. It is very easy to observe a 4 year-old child with a beautiful posture along with agility and movement easiness. The whole time they are changing their movement in accordance to their humor. They do not need to be fixed to a specific place and period of time. In contrast, by the time most children leave school, their spontaneity has disappeared, their movements and attention are restricted and rooted in unconscious postural habits.

What makes children develop bad habits that produce chronic back pains along the years?


Several factors that contribute to the formation of these bad postural habits are listed by specialists. The first of them is imitation. The learning process in childhood comes through the observation of people's postural habits, of their physical and mental reactions to day-to-day situations and of adults around them3.


Another factor can be found in fear, as a physical and mental defense mechanism that the child activates along the years in order to deal with stressful situations, uncertainties and the threat of failing.

Another cause of bad postural habits and poor movement is found in classrooms: inadequacy of school furniture for the child, sitting in classrooms for long periods of time to complete school hours, weight of the rucksacks that carry educational material2, and introduction of the use of computers3, among others.

All these factors facilitate the development of harmful postural habits that lead to lack of balance and organization in the child's coordination, producing excess of muscular tension, projected or stiffened shoulders, arched backs and short attention span. This interference in the coordination tends to affect children in all levels of their life.

How can we undo this process?


©2005 The Society of Teachers of the Alexander Technique, London
The Alexander Technique4 offers a great contribution to such pungent and current issues like these. This matter is not only considered from the external point of view, such as the influence of inadequate furniture in the schools or of heavy backpacks, and even from the family psycho-physical patterns, but of the point of view of the subject and how the child can be aided in the prevention of the development and the fixation of noxious postural habits. The Alexander Technique works while the child is in activity and with the way she using her own self everyday when she sits down, when she moves, when she tries to reach her goals, when her attention is engaged and coordinated with her body, according to her desires and objectives.

The Alexander Technique is a progressive and constant work of education, where we learn how to prevent from unconscious habits we have acquired and to develop healthy and conscious postural habits while in activity. It gives children new tools to think with and to move about with greater freedom, perfecting their perception of themselves and their psico-physical coordination.

The philosopher and American educator John Dewey words on the method developed by F.M. Alexander are:
"The method is not one of remedy; it is one of constructive education. Its proper field of application is with the young, with the growing generation, in order that they may come to possess as early as possible in life a correct standard of sensory appreciation and self-judgment. When once a reasonably adequate part of a new generation has become properly coordinated, we shall have assurance for the first time that men and women in the future will be able to stand on their own feet, equipped with satisfactory psycho-physical equilibrium to meet with readiness, confidence, and happiness instead of fear, confusion, and discontent, the buffetings and contingencies of their surroundings." 5

For us to look at this matter as society, we need an united and coordinated effort between family, school and related professionals (professionals in ergonomics, teachers of the Alexander Technique, educators, physical education teachers, among others). It is very important to think, as a civilization, which legacy we are leaving to our children.

© Valeria Campos
---
1 www.alexandertechnique.com/articlres/develop. "How Children Develop Harmful Habits of Posture and Movement", Robert Rickover
2 www.spine-health.com
3 60% increase of children's complaints of back pains, neck pains and Repetive Straining Injury related to the introduction of computers in schools: www.alexandertechniqueconsultantas.com
4 More information about the Alexander Technique consult the site www.tecnicadealexander.com
5 Alexander, F. M. "Constructive Conscious Control of the Individual", Gollancz 1987
The Alexander Technique and Dance
"I think we need a variety of skills. The Alexander Technique helps to integrate the individual dancer plus all the systems that he or she has been exposed to." Trisha Brown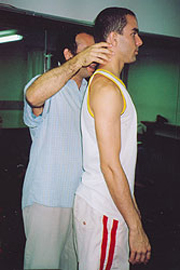 The Alexander Technique is a practical and simple method of re-education and should not be associated with techniques of relaxation, massage or corporal expression. This method consists of observing habits that create tension and interferences that become automated over time and, gradually, learn how to prevent them. The result of this practice is optimum functioning of body's natural reflexes by creating the conditions for the student to respond to the daily stimuli with more intelligence and freedom of choice. (Jones 1976)

The intention of Alexander Technique's classes for the dance course is to teach the principles that are fundamental in the prevention of certain problems, and that can change the way that dancers look at themselves and their art. In this process of education, certain principles such as use and operation, end-faining, primary control, imprecise sensorial appreciation, inhibition and guidance are the principles of the work being done. They are unique principles designed by Alexander that are being put into practice for over 100 years.

Faulty Sensory Appreciation

One of Alexander's observations in his research was that the perception he had of himself was not accurate. The sensorial mechanisms that normally oriented the execution of any activity did not function accurately. Alexander noted that the continuous repetition of uncoordinated patterns in the use of the body leads to an imprecise sensorial appreciation. (Tinbergen 1974)

The absence of kinetic precision is one of the great problems in the attempt to change movement patterns. We tend to walk in circles in our learning processes, especially when there are difficulties; the tendency is to make more effort in the same direction. As MacDonald summarizes (1987): "what usually happens is that we just do the same thing again, but with extra tension." In other words, we do it as before, only worse." For instance, when a teacher asks the student to move in a certain way, the only reference the student has is his sensation of what the correct way should be. As soon as this sensation of what is correct becomes defective, the student has great chances of executing movement in a harmful way.

End-gaining

Another observation made by Alexander in regards to the current operating pattern we use is that it begins to structure itself from childhood: to think exclusively about the result to be obtained. This does not make us cultivate the idea of going through a process in order to reach certain objectives. Great part of the problems and accidents that happen to dancers are related with the lack of observation and attention of the present moment. It is essential for students to learn how to maintain thought connected to the appropriate means for the movement to happen without restrictions. This may seem simple, but in fact, knowing when to stop and how to disable tension patterns so that the natural reflexes of posture and balance are activated is one of the hardest things to be learned.

Primary Control

One of Alexander's fundamental discoveries was to identify the relationship between the balance of the head and spine that was clearly stated by writer Aldous Huxley (1945): "...there exists in Man, as in all the others vertebrates, a primary control conditioning the proper use of the total organism. When the head is in a certain relation to the neck, and the neck in a certain relation the trunk, then (it is a matter of brute empirical fact) the entire psycho-physical organism is functioning to the best of its natural capacity." Alexander called this organization Primary Control because any unbalance between head and neck, and with the torso, would disarrange the use of the parts of the body. According to Alexander (1995): "the whole organism is responsible for specific trouble."


When the head is balanced on top of the spine, it activates the functioning of natural reflexes of posture and balance. If we consider this as a principle, then the focus on what is right and wrong is abandoned. These mechanisms are innate; the appropriate action is to allow the natural functioning of reflexes without interference. The more students have this experience in classroom, the easier it becomes for them not to interference, in any way, that can disturb this natural organization.

Neuromuscular Inhibition and Conscious Guidance

Through his direct experience, Alexander developed two singular principles in his work that are called Inhibition and Guidance. He worked in front of mirrors to prove that these principles could influence the use of his body and thought in a new way.

The principle of Inhibition consists of non-activation of messages that the brain sends to the body. To each daily stimulus there is an answer, already registered by the brain that is sent to the muscles through the nervous system. The practice of Inhibition would be the possibility of, from the stimulus of lifting an arm or a leg, not answering to this stimulus mechanically, by thus creating conditions of elaborating a new answer.

The principle of Guidance is to have conscious orientation over the way of answering to these stimuli. Not as a standard or correct posture but with mental clarity on what one desires. In Alexander's words (1995): "here is no such thing as a correct posture but indeed correct guidance."

Dance Course

Since 2001, the Department of Dance of UniverCidade, in Rio de Janeiro, offers classes of the Alexander Technique in the undergraduate course. Some students had already had contact with this work outside of the university and saw a need of this practice while studying dance and requested the inclusion of the Alexander Technique's in the course. There are classes of different levels. The classes take place twice a week with 1 hour and 40mim of duration. The challenge was to transform an individual work into a group class, since teaching the Alexander Technique demands individual attention with each student from the teacher.

The idea of body and mind being distinct from each other leads us into separating the experiences we have in classroom. The intention of the course is for dance students to experiment the integration between action and thought. The conception of a psycho-physical unit can be of great value to the dancer. The human being as an integrated structure of mind, emotion and body can experience the flow of energy without blockage and this principle can be incorporated to dance by the ballet dancer.

In class, we try to direct attention and awareness to the moment that precedes movement, while body and mind organize themselves to execute a task. There are a series of psycho-physical reactions between stimulus and reflex that are normally unconscious and that can limit the dancer's performance, since the automated answers interfere in the natural flow of movement leading to work overload. If the body is not free, free movement will not occur. This explains the dissemination of the idea that excessive muscular effort is necessary in order to gain good results.


The class is divided in two parts; first the students are worked on individually. The teacher, with a gentle touch, uses his hands to give feedback to the student on how he is using himself on that moment, disabling patterns of poor use and stimulating the mechanisms of coordination. On the second part, a work in group is done where students are stimulated to observe and identify what really happens in the moment of action. Since along the semester a calm environment is created in the classes, without fear, competition or concern with mistakes, students are encouraged to expose themselves through movements and dance sequences in front of their friends. We begin to train and look at what is really happening behind movement, what is happening between the stimulus and the response, which is its direction, and how one is interfering in the mechanisms of balance and coordination. Daily activities such as walking, sitting down and getting up from a chair, standing up and speaking are repeated in class. Through them, we identify automatic patterns that end up harmfully interfering in the appropriate use of the body's mechanisms. During the semester, dance movements of other classes and performances are introduced and we identify the same patterns of daily habitual use and movement. We observe how much we are tied and restricted in our own selves. Such repetitive patterns, although identified in movement, arise in the brain and can only be worked on if altered in their origin, in mental habits and consequently in how they manifest themselves. During classes we can observe that hardest thing for students is to leave aside the idea of "the correct way". This habit, acquired early, leads to rigidity of thought. At the same time, the lack of observation of yourself, the absence of mental clarity on what one wants to perform, and particularly the lack of appropriate means, is what leads the ballet dancer to a series of common problems such as tendonitis, muscular strains, problems in the joints, lack of muscular control, breathing difficulties, poor performance, mental confusion, amongst others.

The philosopher and educator John Dewey, commenting on his experience with the Alexander Technique, states: "Each lesson carries the process somewhat further and confirms, in the most intimate and convincing fashion the claims, that are made. As one goes one, new areas are opened, new possibilities are seen and then realized; one finds himself continually growing, and realizes that there is an endless process of growth initiated." (1992)

Along the semester, it is made clear for the student that he is only beginning a process of research on himself. The principles acquired and practiced in the classroom serve as a guide in this process. The Alexander Technique is an instrument by which the student can think about his or her physical and mental use in dance or in any other activity in life.

© Roberto Reveilleau
---
REFERENCES:
ALEXANDER, F. M. Constructive Conscious Control of the Individual, 1923, Ed.Gollancz, 1987.
ALEXANDER, F. M. The Use of the Self, Centerline Press, 1984.
ALEXANDER, F. M. The Resurrection of the Body, Selected by Edward Masel, Thames and Hudson, 1990.
ALEXANDER, F. M. Articles and Lectures, Ed. Mouritz, 1995.
BROWN, T. Dancing at the Edge of Balance, Interview published in ACAT, 1986.
JONES, F.P. Body Awareness in Action, Ed. Schocken Books, 1976.
HUXLEY, A. Ends and Means, The Saturday Review of Literature, 1945. TINBERGEN, N., Ethology and Stress Diseases, Science, Vol.185-4145:28, 1974

Pictures: Alexander Technique application in dancers
Is playing an instrument bad for your health? The Alexander Technique answers
"Living is an act, and in this act, we all to easily allow our activities to be encumbered and encrusted with habits, with conventions, with all kinds of complicated influences. And in the act of living, whether it is walking down the street or learning to play the piano, you must keep in mind that the primary energy cost is the support of the body weight. If the body weight is not being supported efficiently, then there is a tremendous energy leak, and the whole process of living will not be efficient"1 Walter Carrington, Director of Constructive Teaching Centers, London
Why do so many musicians have postural problems? Independent from the instrument, amateur or professional, erudite or popular, a great portion of the musicians have or have had problems related to inadequate postures. All you have to do is ask a musician if he knows somebody with physical problems to notice how this is as common as epidemics. In order to solve this issue, many musicians go through a series of palliatives, that don't pertain to this discussion, in the attempt to minimize their problem so that they can continue performing their tasks in music.

In the international conference Health and the Musician, carried out at the University of York, in March of 1997, the following information was divulged regarding research done by Federation Internacionale des Musiciens in 56 orchestras around the world2:

57% of musicians have medical problems that affect their work;
20% complain of fatigue or muscular pains more than once a month;
25% have pains more than once a week;
55% feel pains after playing an instrument;
41% have had the experience of not controlling the movements of their fingers;
22% of the musicians had to stop playing in the previous year due to pains;
83% consider that their training did not prepare them appropriately; the location of these muscular pains is basically in the neck and back.

We arrived at the following conclusion: is playing an instrument bad to your health? Is man's contemporary physical structure so fragile that it does not allow him to execute specific activities without disastrous consequences?

At the end of the 19th century an Australian actor and reciter called F. M. Alexander shed light on this subject. He noted that the human being generally acquires a series of bad postural habits. These automated habits interfere in the coordination of the body's most simple day-to-day movements such as walking, sitting down, writing, speaking and also of the more complex activities such as singing, dancing or playing an instrument. The incessant repetition of such postural patterns leads to an infinity of unwanted consequences to your health so common nowadays. Alexander noted that only through mental and physical re-education can you undo these problems.

This work began when Alexander became a renowned shakespearean actor in Australia and New Zealand and his recitals became quite popular. His health worsened due to his constant presentations and breathing problems and hoarseness became constant hindrances to his performance. Without obtaining any success with the specialists of his own time, Alexander began a research in order to solve these problems. He noticed that his voice and breathing problems were mere consequences of general misuse. It became evident to Alexander that the coordination between head and spinal cord was the main factor for the proper coordination of his entire body, and that any unbalance in this relation disarranged the entire use of his body. Since then, he developed a method called today as The Alexander Technique.

Currently, even though unknown to the general public, his work has been applied in different teaching institutions around the world. It has been included in the curricula of Universities, Schools and Conservatories of Music as base for creative exploration, health improvement, mental clarity, understanding and expansion of the Human potential.


Los Angeles Philharmonic Institute, Royal Academy of Music, Dartington College of Arts, Juilliard School, Guildhall School of Musicl, Royal Conservatory of Music in Toronto, Utrecht School goes the Arts and Conservatoire National Sup. of Musique et of Danse of Paris are some of the institutions that have been teaching the Alexander Technique along the years. Verbier Festival & Academy in Switzerland and the Festival of Music of Campos de Jordão in Brazil are some of the examples where the Alexander Technique is presented. Yehudi Menuhin, conductor Colin Davis, Paul McCartney, Sting, and James Galway, are some of the names that already went public to endorse this work and practice.

In regard to musicians, it can be observed that playing an instrument or singing involves the ability to coordinate thought, movement and expression. A lot of times, in the attempt of obtaining good results, postural and coordination problems are many times underestimated allowing muscular tension patterns to install themselves and become habitual. Invariably, neck muscles contract excessively making the head lose its natural position at the top of the column, resulting in enormous contraction of some muscular groups that sustain the body.


The Alexander Technique is not a palliative technique to be used only after a rehearsal or before a presentation. It is a valuable instrument in all stages of a musician's work. They learn to observe and to prevent the automation of neuro-muscular habits that cause poor performance and practice of the instrument as well as noxious consequences to health in general. The work of the Alexander Technique with musicians has been ministered since 1996 at the University of Rio de Janeiro (UNIRIO) through Academic Extension Courses offered by the Music Department in agreement with Música Pró-Arte Seminars. It is the first time in Brazil that a University of Music offers classes of the Alexander Technique periodically to their students.

These courses have given the students conditions to develop their musical training parallel to the study of the Alexander Technique. Group classes are given weekly following the university's calendar. The method is applied individually. Students practice sequences on their musical instruments that they have been practicing in their rehearsals or of difficulties they have observed during performance, like excess tension in certain joints, movement restriction in some parts of the body or inadequate postures that lead to general indisposition.


It is interesting to observe that, the more exposure students have to the Alexander Technique, greater is their capacity to observe themselves and consequently the capacity to experiment with their instruments is greater as well. Every week, students bring new information about their difficulties and the observations about how they can prevent them during the musical performance. This process radically transforms the way of thinking about music and its practice. Students become aware of themselves as the instrument to be worked on first and perceive that any modification in their practice will only be possible through a change in the use of their own body. At the end of the semester, it becomes clear to the student that the course was only a starting point for a new stage of information, where each one, through the means practiced in class, will experiment in life the inhibition of limits imposed by habits and interferences acquired over the years. The results are extremely positive and students consider this technique of great value towards learning and performance in their art.

Extracts from newspaper "O Globo", published of the "Jornal da Família" section of June 27 of 2004

© Roberto Reveilleau e Valeria Campos
---
1 Carrington W., The Act of Living, Mornum Time Press 1999
2 STATnews, September of 97, London

Fotos: Aplicações da Técnica Alexander nos músicos
Alexander Technique and Education
"It is necessary to educate a person as a whole being if we want to promote fundamental changes." F.M. Alexander
When we think of the Alexander's Technique, what happens to us immediately, is relief of stress, less rigidity of the muscles, a balanced posture, lighter and more coordinated movements, freer breathing and calmer thought, etc. Such changes are only consequences of a work based on a more ample education process that according to writer Aldous Huxley, it would be considered as "a totally new type of education affecting the entire range of human activities, from the physiological, through the intellectual, moral and practical, to the spiritual - an education which, by teaching then the proper use of self, would preserve children and adults from the most of the diseases and evil habits that now afflict them: an education whose training in inhibition and conscious control would provide men and women with the psycho-physical means for behaving rationally and morally; an education which, in its upper reaches, would make possible the experience of ultimate reality".1


From this educational perspective, we are called teachers and not therapists, and those who seek us are called students and not clients or patients. It is then established, in this way, the appropriate type of relationship for the work we want to develop. Our focus is in learning and not in result; although we know that this work can have therapeutic improvement as a consequence in different levels. Therefore, the results obtained through the Alexander's Technique, should not be associated with physical or psychological treatment, but rather with a process of self-knowledge that builds in each lesson, in every minute in the life of the student. Through this process of education, the principles set forth by Alexander guide the work - they are unique principles that are being put into practice for over 100 years - and the teacher's roll is to guide the student towards learning how to stop repeating bad neuromuscular habits that have been acquired, to stop interfering in natural mechanisms of balance and coordination and become responsible for his or her own work process.


We are interested in developing something new, for which were not educated; something that can give us conditions of working better with the rapid changes of the environment we live in. This something new is ourselves, through the conscious thought of our daily activities and through the development of the capacity of being present at the same time that we are involved in our daily tasks. We can only therefore prevent noxious reactions to our organism. That is why we believe that the Alexander Technique does not conflict with any other type of work of a human being's development, because we are only increasing our potential for knowledge about ourselves and not determining ways or correct forms of executing this or that task.

This process of education of the individual that many associate to oriental techniques and philosophies was developed after 9 years of research by Frederick Matthias Alexander (1869-1955), Shakespearean actor that, in the end of the XIXth century, and because of constant theatrical presentations, began to suffer from breathing difficulties and hoarseness. By observing that his voice was better when he stopped rehearsing and that it worsened when he returned to normal activity, Alexander began research using himself as the object of observation. He was able to notice that the use of himself directly affected the general functioning of his organism; his voice and breathing problems were mere consequences of a total dysfunction of his body. From then on he developed a revolutionary practice based on Man as a psycho-physical unit.


In this aspect, Alexander was a pioneer, developing a work in which mind and body are related as an inseparable unit and, therefore, any problem in this unit can only be solved through a process of re-education in which the conscious mind and the body are working in a harmonic way.

Alexander, along his life, noticed that his work would have a larger effect in society if taught to children, and that, they could maintain their organism free from bad acquired habits and, consequently, from the noxious results to their physical and mental health.

Remembering the words of the philosopher and educator John Dewey on the method developed by Alexander: "but the method is not one of remedy; it is one of constructive education. Its proper field of application is with the young, with the growing generation, in order that they may come to possess as early as possible in life a correct standard of sensory appreciation and self-judgment.
When once a reasonably adequate part of a new generation has become properly coordinated, we shall have assurance for the first time that men and women in the future will be able to stand on their own feet, equipped with satisfactory psycho-physical equilibrium to meet with readiness, confidence, and happiness instead of fear, confusion, and discontent, the buffetings and contingencies of their surroundings."2

© Roberto Reveilleau
---
1Huxley, A. "End-Gaining and Means Whereby". The Saturday Review of Literature, 1941
2 Alexander, F. M. "Constructive Conscious Control of the Individual". Gollancz, 1987, introduction by John Dewey

Fotos: Pictures: The posture mechanisms are fully working in childs
Alexander Technique at UNIRIO
How It All Began

In 1994 a singing teacher at Universidade do Estado do Rio de Janeiro - UNIRIO, who was already familiar with the work, invited me to teach Alexander Technique (AT) classes in the ?Centro de Letras e Artes? as one of the University extension courses. Although the Centro de Letras e Artes is responsible for both Theatre and Music, in practice it was the Music department, known as the ?Instituto Villa-Lobos?, which organized everything for the AT course.

The classes took place once a week for one semester, following the academic term of the university. There were approximately 15 classes per semester, each lasting 1 hour and 40 minutes. Initially I had just one group later that grew to 3 groups per week. There was a maximum of 12 students per group. Some students stayed on for more than one semester.

It was a free course, independent of other courses or subjects. Most of the students were musicians, students of the university's music course, but it was also open to the outside public. Usually less than a third of the participants came from outside the University.

Teaching Alexander to Musicians

Until that moment, I didn't have much experience in teaching AT to musicians. I started to realize how painful could be a musicians life. Not just the pressure of playing well in the music performance but also within their own body. Most of the musicians develop bad habits of playing and the consequences of these are pain, discomfort, tendonitis, breathing problems, limitations in movement, etc. And on the emotional level fear, anxiety and mental fatigue. And no one talks about that in public because they believe that is a personal disability and not a problem disseminated by most professionals in the field. That's why AT is so valuable in a music learning institution. It is a tool to help deal with all these problems.

Not being a musician myself had its advantages as I was not in that world of judging or comparing their playing/singing. They knew that I was not there to talk about their music abilities but to put them in contact with what was happening with them (body and mind) when playing.

They would arrive at the beginning of the semester wanting to solve their physical problems when they are playing or singing. They were surprised when I used to say that their problems are not only when they are playing but also when they are using themselves in every activity in life. The playing/singing is just the ultimate level of disorganization and it is usually where they notice something is not working well.That is why we start in the beginning of the semester doing things that are not related to playing an instrument or singing for them to see how they repeat their bad habits of use in every activity of the day.

Something that always came up was the generally held belief of the musician that their instrument was the worst in terms of difficulty of playing. All musicians, no matter which instrument they were playing, used to say that they have physical problems because they play the most difficult instrument. And that would range from flute to piano, from cello to drums.

I was always surprised with their unconscious reaction of excess muscle contraction when we started to practice with the instruments/singing around the middle of the semester.There was a total disbelief that playing the instrument was possible whilst maintaining awareness and connection with the body.

I remember in the first lesson one semester I asked a student who had attended the previous semester to come and tell the new students about his experience. He had tendonitis in his wrist and for a while he thought of stopping playing in his orchestra. I was amazed when he said that since he started to learn AT he could no longer forget about himself while he was playing. Of course none of the new students understood what he was saying. It is quite common that musicians disconnect with themselves when they are playing. Being present in the moment is not an easy thing.

The idea of working in groups can be very interesting for performing artists. In the last lessons of the semester the students used to play or sing to the group and the group were stimulated to give feedback to the performer about how they were using themselves while they were playing/singing. That happened in a very friendly environment. Free from criticism or judgement. The idea was to be free to expose themselves and be able to receive feedback about what was going on and how they could improve their neuromuscular pattern. That experience was also very important to other students who were watching because they could see in someone else a similar problem or difficulty that they themselves had.

What Did This Experience of Taking Alexander Technique to University Means?

Firstly, it was an honor to be able to regularly teach AT at a public university. Until that moment this had never happened in Brazil.

It was an incredible experience to teach there all this time (from1995 to 2007). I learned a lot about musicians patterns of use. I acquired a lot of experience and learned to work with groups offering a good practical experience of AT to students. In general it is more common to teach AT through individual lessons.

At first there was hardly anyone enrolled in the class as the AT was not very well known, but over the years the classes filled up without any advertising, just by word of mouth. At that time, most students, even if they didn't have time to take the course, knew that the AT was offered at UNIRIO. Even from other faculties.

Several music teachers from the University took an interest, some took individual lessons, and I was invited by some of them to give lectures on AT in their classes. This continued even after the extension course for AT ended.

I could reach students who lived far away and who had a lot of financial difficulties such that they would never have had access to the AT if it hadn?t been offered there at college.

Over the years, I started to invite other AT teachers here in Rio to help me in class, was a good opportunity for teachers to have experience in that area.

To this day, I receive students from the music field, many through the work I did at that time. Today here in Rio AT is very well-known in the music scene.

© Roberto Reveilleau
---